Human Rights for all: UCT's Division of Disability Studies charts path to inclusion and accessibility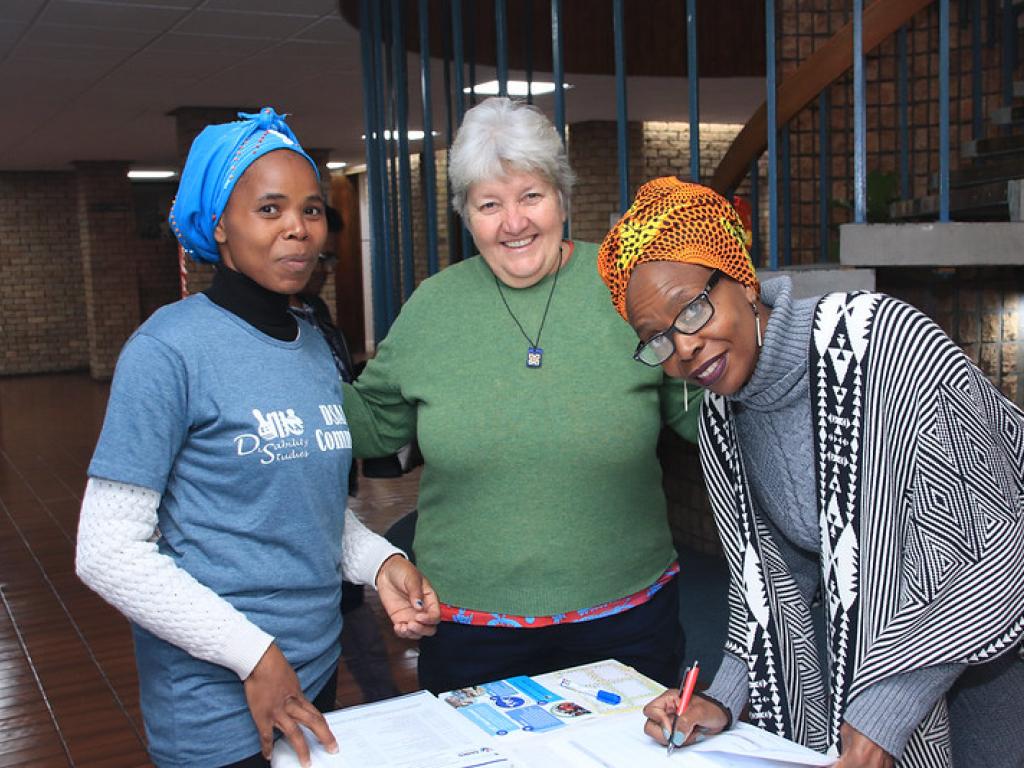 A 30-year-old mother to a son with a physical disability comes to the University of Cape Town (UCT) from deep rural Venda. She has no undergraduate degree nor any formal education except that raising a son with a disability led her into working for a Disabled Children's Action Group for a number of years. Due to Recognition of Prior Learning (RPL) she is able to enroll for a Postgraduate Diploma in Disability Studies and later completes her Masters in Disability Studies at UCT. She then got a job at the Department of Agriculture in Limpopo and today is a lecturer in the Department of Inclusive Education at UNISA.
The above is the story of UCT alumna Marubini Christinah Sadiki.
"After 20 years of being involved in this programme I would say that Christinah's story still gives me the most joy!" says Professor Theresa Lorenzo, programme convener for the Disability Studies MPhil and Doctoral Programme at the Department of Health and Rehabilitation Sciences at UCT.
"The uniqueness of her story and our programme as a whole is that it is very strong in using Recognition of Prior Learning for people. You find that a previously disadvantaged person will come here without a degree or post school qualification but has worked in the field for years. Recognising this prior learning has really helped a lot in addressing the discrimination that disabled people, particularly black disabled people, had experienced because of apartheid," adds Prof Lorenzo.
Disability Inclusion a Human Rights Issue
Disability Inclusion and access to opportunities is a key national priority and a Human Rights issue that can deal directly with poverty, inequality and the discrimination caused by apartheid. 
"Disability Studies is all about politics and disability inclusion is our priority," concludes Prof Lorenzo who goes on to note alumni who have gone on to work in various government departments, academia, start NGOs as well as the African Union.
Realising the number of notable alumni who have walked through the corridors of the Old Main Building of Groote Schuur (which houses department), there was a need to establish an alumni affinity group.
Dr Nafisa Mayat, a lecturer within the Division of Disability Studies, has since championed the establishment of a UCT Disability Studies Alumni Affinity Group which was launched in July last year but gaining traction this year.
A trained social worker and alumna herself, Mayat's journey within the division began in 2004 when she enrolled for a Postgraduate Diploma and then an MPhil. This month she graduates with a PhD in Disability Studies.
"One of the aims of launching an Affinity Group is to develop a network for ongoing collaboration and engagement with alumni to enhance professional development within the disability sector," says Dr Mayat, whilst adding that such a group will assist in raising the profile of the Division of Disability Studies within broader society and help recruit both students with disabilities as well as non-disabled students.
Disabled voices on the Alumni Affinity Group
"I have done Disability Studies at UCT.  We are looking at how can we take what we have learnt and really go into the different sectors of society, whether it is education, social development or whether it is just to look at how we network for young people with disabilities to come to the university. The alumni affinity group will assist in attracting more students to the university," says Marlene le Roux, CEO of the Artscape Theatre in Cape Town and a member of UCT Council, who attended spoke at the launch.
One of the guest speakers at the launch on the 23rd of July 2022 was author and Creative Director of Valhalla Arts, Musa E. Zulu, whose books are also used to teach in the Disability Studies division.
"We start with such processes and hope that they are going to mutate. It is alumni that are going to make this work. It is alumni that are going to create this sustainability. We are not just launching but mapping the future, a network of connections," said Zulu who was excited to see UCT launching an alumni affinity group.
"I believe that Disability Studies alumni can break down the isolation and create meaningful networks that can be effective in making sure that there is transformation, integration and mainstreaming of disability in the world of work," says UCT alumnus and activist Dr Mzolisi Toni whose contribution to advancing disability rights in South Africa culminated in the first Postgraduate Diploma in Disability Studies in Africa being launched at UCT in 2003. 
"Some of us are deployed in various government departments and some of us are deployed in private sector companies so we should be able to play a role to persuade those that have the resources to contribute towards the development of a better South Africa," adds Dr Toni.
Subsequently, a Postgraduate diploma, Masters and a Doctor of Philosophy in Disability Studies programmes are on offer, as well as a Higher Certificate in Disability Practice.
"What we do in the academy is that we provide a platform. We now have alumni who come from all sectors of life. We are talking about people like Dr Mzolisi Toni who understands how government works and how disability works but now with a qualification that takes disability seriously," says Professor Elelwani Ramugondo, Deputy Vice Chancellor Transformation, Student Affairs & Social Responsiveness.
At the launch last year, Prof Ramugondo said: "This is a historical moment. No one single discipline could have pulled off what the Disability Studies Programme has pulled off in its 21 years of existence. We need to take an interdisciplinary approach that sees Disability Studies in all other university programmes." 
The Future
Disability Studies is a division within the Department of Health and Rehabilitation Sciences and falls under the Faculty of Health Sciences at UCT. Other divisions include: 
Communication Sciences and Disorders, Nursing and Midwifery, Occupational Therapy and Physiotherapy. 
Approximately 875 undergraduate and 294 postgraduate students have walked through this department's corridors. This number continues to grow. This year alone Disability Studies has 26 Masters students, 4 PhD candidates, 10 Postgraduate Diploma students and 25 students doing their Higher Certificates in Disability Practice.
"There aren't a lot of resources to go around, but if we make issues around disability, accessibility and inclusion central to our budgeting processes then they stop being additions to what we do, but rather become part of what we do. When we create an operations budget, we make Disability Studies part of that programme," remarked the Faculty of Health Sciences dean, Associate Professor Lionel Green-Thompson.
The Division of Disability Studies is currently tackling funding and digital accessibility for disability inclusion. UCT's Engineering Department is assisting with expertise on making learning platforms like Vula accessible to students and staff with disabilities. Different systems are currently being tested for accessibility.
"We have a good network through our alumni. We want to get a marketing professional to share our story, track our students, put out quick short stories of success and also motivate people to come study or support our programmes financially," concludes Professor Theresa Lorenzo.
For more information on the Disability Studies Alumni Affinity Group or to support it, email: nafisa.mayat@uct.ac.za
Website: www.dhrs.uct.ac.za 
Watch the interview here: